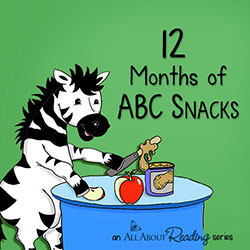 Eagle River, WISCONSIN (PRWEB) February 26, 2015
In early 2014, All About Learning Press, Inc. released a series specifically designed to help preschoolers develop important pre-reading skills in a fun and tasty way. The free alphabet snacks series featured 26 kid-friendly recipes—one for each letter of the alphabet—ranging from "Appetizing Ants-Go-Munching" to "Zany Zucchini Muffins."
But the fun continues! "Since we first published the ABC Snacks Series, 12 new snacks have been added to the lineup—one for each month of the year," says Marie Rippel, author of the All About Reading program. "These seasonal snacks are perfect for adding to your 'special day' celebrations."
To make it easy for families to download the new recipes, All About Learning Press, Inc. has released a free downloadable 12 Months of ABC Snacks cookbook. "There are snacks for St. Patrick's Day, Memorial Day, and Easter. There is a snack to enjoy on a snowy day, and one for those days when you want to talk like a pirate! And you definitely don't want to miss the candy corn or penguin snacks! It's a whole year's worth of snacks…all in one place!" says Rippel.
Each recipe in the ABC Snacks series includes step-by-step instructions and tips for supporting the five important pre-reading skills: print awareness, letter knowledge, phonological awareness, listening comprehension, and motivation to read.
The All About Reading Pre-reading program is designed for preschoolers and kindergarteners and is a research-based Orton-Gillingham influenced program that uses multisensory lessons to teach reading sequentially and incrementally. This comprehensive program comes with lifetime support and a 100 percent money-back guarantee. The "Open and Go" lesson plans are lightly scripted and do not require previous teaching experience.
For more information about the All About Reading program, visit http://www.allaboutlearningpress.com.
# # #
Contact: Greg Rippel

(715) 477-1976
Related Candy Press Releases